5 key steps to grow your business online
If you are searching for ways to increase sales in today's competitive environment, there are 5 steps you can take to start generating enquiries.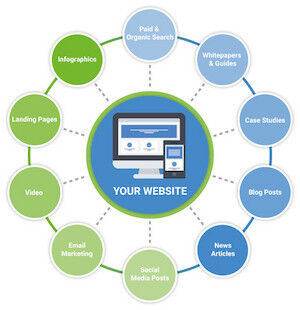 1.Website performance
Your website is the hub of all your online activity.
Even if you are advertising off-line using press ads or mail drops, the first thing most people will do is go online to check out your website and research your business before taking any further action.
Like a lot of things from designer clothes to product packaging, image and design are important and will create the first impression visitors will have of your business.
Quality of build is also important. What determines how successful your website pages are at being found by search engines will depend on how the site has been constructed, how engaging the content is and the relevance of the keywords used.
It takes the skills of a good designer and web developer with an understanding of SEO (Search Engine Optimisation) to provide a sound foundation for your website to develop and grow as your business goes forward. With the right management, continuous SEO work and generation of new content, these skills will help you achieve a page one ranking on Google over a period of time.
A good website is an investment and you will reap long-term rewards if you take time at the beginning of the project to work with your developers to give your website the best chance of converting visitors into clients.
2.SEO
Assuming your website has been developed with SEO in mind, this will provide a good starting point to monitor and improve the rankings of your most important keywords on the main search engines.
A new website will take around 6 weeks to settle and start providing the keyword ranking information needed to identify where to concentrate efforts on improving page content to move keywords up the page rankings.
New content and improving existing content are amongst the most important factors in SEO. Having a Blog on your website and regularly posting informative articles will help improve your keyword rankings.
We already work with a select number of our clients to achieve page one rankings. First, we carry out a review of your keywords and competitor activity. Then, if we think we can achieve results for you we would recommend a programme of work to achieve success. We will be honest with you if we think SEO is not the best way for you to achieve results and we consider one of the other steps below to be more cost-effective for your particular business.
3.Social media
Facebook, Twitter, LinkedIn
and
Instagram
are some of the most popular social media sites. For small businesses with limited time, I would recommend focussing on one social media platform and spend your time there. Social media can be very time consuming if you want to generate quality leads and increase your connections with the aim of sending them to your website or taking the conversation off-line for a more detailed discussion. Call me to find out how.
4.Advertising
Developing a successful advertising campaign will bring a constant supply of leads into the business.
Choosing where to advertise and creating the adverts for a campaign that will generate enquiries will need research into your products or services. Price comparisons, competitor research and an understanding of your target audience will help decide where to advertise and what to say in your adverts.
Online advertising such as Google Adwords can drive traffic to your website immediately. Campaigns can be set up and tested very quickly to find out what works using conversion tracking and Google Analytics to measure the effectiveness of click-throughs to your website.
Social media paid advertising on Facebook and LinkedIn is relatively new and can be very effective for some businesses. Like Adwords, adverts can be tested and refined to maximise response rates and conversions to provide a constant supply of enquiries to your website.
Press and TV advertising are still relevant for some businesses; however, it is more difficult to track responses to justify the cost unless you can direct readers to a specially developed landing page or unique phone number to record visitor numbers.
Whichever route is best for you, your website will be the hub of the activity.
5.Email marketing
Sending regular emails to your clients and prospects, providing you have their permission, is still one of the most effective ways of getting your message to your audience.
If you are writing a regular blog article for your website, as well as sharing on social media, send a link in your email to the article and continue to remind subscribers of your products or services.
Mark Langston